Date: 12th March 2020 6.30pm
Join us for a lively and interactive workshop with local undertaker Carrie Weekes to find out how to have a "good" funeral. We will be exploring
What is a funeral for?
What does a "good" funeral look like?
What EXACTLY does a funeral director do?
What does this cost, and how can I keep costs down?
What questions should I ask a funeral director? How do I become a better consumer
How can I have a greener funeral?
What can I do now to prepare for my own funeral?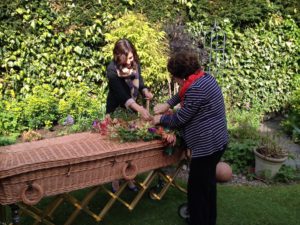 The aim of the session will be to find out exactly what a funeral director does and how you can get the funeral you need, or simply feed your curiosity.
Tickets are £5.
This event is sponsored by Arts Council England as part of our 'Dead Fashionable' project.
Book your tickets here 
!