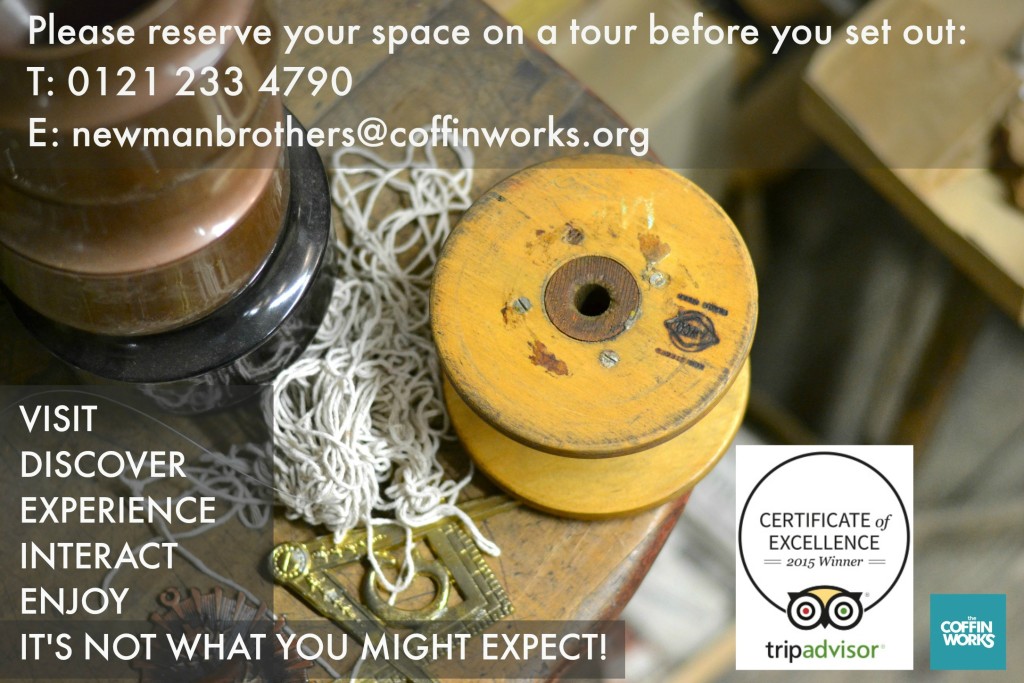 The shelves and workbenches at Newman Brothers are full of original stock and tools of the trade. With the original machinery working again, you can truly experience how this old Jewellery Quarter firm once operated on a day-to-day basis, producing some of the world's finest coffin furniture, including the fittings for the funerals of Churchill, Chamberlain and the Queen Mother.
Taking you back to the 1960s
Travel back in time a few decades to experience how Newman Brothers operated during its heyday. You will enter a time capsule where the music of the 60s is piped into the building, mingled with the industrial sounds of a working factory.

This slice of Birmingham's industrial heritage was preserved by Birmingham Conservation Trust.
Get a flavour of the museum, its collection and our friendly and fun-loving volunteers by visiting our Photo Gallery.
Alternatively, click on this link to hear about Newman Brothers, in this recently-produced podcast. 
---
Watch our recent appearance on Antiques Road Trip to get a flavour of what we're all about:
---
Opening Times (from Jan 2016)
We are closed on Mondays and Tuesdays, but open on bank holidays.
Wednesday to Sunday

Doors open 10.45am. Tours on the hour at 11am, 12 noon, 1pm, 2pm and 3pm. Last entry 3pm.
Admission to the museum is by guided tours only.
Tours are limited to 15 people at a time. You are welcome to just turn up before a tour, but we advise that to avoid disappointment, you reserve a space by phone: 0121 233 4790 or by email: newmanbrothers@coffinworks.org
Please note; on the following Sundays there may NOT be the usual public factory tour at 3pm:
5th February, 5th March, 2nd April, 7th May, 4th June, 2nd July, 6th August, 3rd September, 1st October, 5th November, 3rd December.
Instead, if we have bookings, we will run our monthly Relaxed experience which has been designed specifically for people on the Autistic Spectrum and their families, and suitable also for people with a learning disability or sensory and communication disorder. More details HERE.
Payment on arrival at the museum.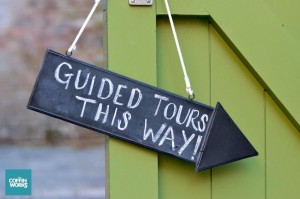 Guided Tours
Our costumed guides will lead you around the factory where you will experience the sights, sounds and smells of factory life and hear stories about workers, owners and trade. Tours last approximately 1 hour. Reserving a place on a tour by telephone or email is advisable, as our tours operate on a first come, first served basis. 
See what other people say about our tours on 
. by clicking here.
Download our 2016 marketing leaflet HERE or continue reading for full details.
Please pre-book if you are visiting as a group. If you would like an exclusive tour, you will be asked to pay the equivalent of 15 tickets which is our capacity per tour. The group leader does not have to pay. Please be aware, members of the public may join your tour if your group numbers are lower than 15. The Group Visit Flyer has all the details for group bookings.
There is coach parking on the street opposite.
Out of Hours Evening and Daytime tours
Please get in touch if you would like to book a tour outside our usual opening hours. This might be on a Monday or Tuesday or in the evening. Min 15 people. Price £8.00 0121 233 4785.
For group bookings please contact Sarah on 0121 2334785 sarah@coffinworks.org
Joint Ticket Offer with Museum of the Jewellery Quarter
We have an amazing joint ticket offer for groups of 15 people or more – visit both The Coffin Works and Museum of the Jewellery Quarter for just £9.50 per person! Please download the flyer and booking form for more details.
Joint Ticket Offer with The Pen Museum
And we can't leave out the Pen Museum! Groups of 15 people or more can visit both The Coffin Works and The Pen Museum for £8.50 per person! Please download the
flyer
and
booking form
 for more details.
---
 Fa

mily Visitors
We love our family visitors! There are hands-on activities, dressing up and Factory Cat trails to do during the guided tours. You will learn all about how things were made, packaged and sold and find out about the fascinating characters that worked here. During the holidays check out our activities in the What's On section.
---
Not sure what to expect?
Why not watch our short preview film to get a flavour of the factory and the kind of stories and information you can expect to hear. We filmed this BEFORE we restored the factory, so you'll get to see the building in its crumbling state too!
You can also get a flavour of the museum and the friendly people who work and volunteer there by looking at our photo gallery.
---
Guided Tours Admission Prices
With Gift Aid
Adult £6.60, Concession* £5.50, Child (5-16) £4.40, Child (under 5) FREE,
Family (1 adult + up to 3 children) £12.10, Family (2 adults + up to 3 children) £17.60
Standard prices
Adult £6.00, Concession* £5.00, Child (5-16) £4.00, Child (under 5) FREE, Family (1 adult + up to 3 children) £11.00, Family (2 adults + up to 3 children) £16.00
Birmingham Conservation Trust Supporter FREE (sign up when you visit for unlimited visits to Newman Brothers for 12 months, plus many other benefits!) Find out more about our Supporters Group or sign up HERE.
Wednesday is Community Day! Free admission for residents of Ladywood Ward with proof of residency / postcode (e.g. bank statement, utility bill).
* Concession rates apply to over 60s and students. Disabled visitors pay standard adult/child price but can bring a free carer/personal assistant.
Feeling peckish?
You can visit the museum and then treat yourself to lunch at The Shakespeare Inn on Summer Row as part of our special lunch deal! Adults £13, Concessions £12, Children £8.50, see poster for full menu.
---
Access
Newman Brothers is accessible, with disabled parking located directly outside, a courtyard ramp, accessible toilets and a lift giving access to all floors.
Assistance Dogs are welcome.
We offer a free digital guidebook which has British Sign Language interpretation, audio and sub-titles.
From March 2016 we will offer a monthly Autistic-friendly Relaxed Experience.
To help you plan and prepare for your visit please see our Access page.
---
From out of town?
If you need somewhere to stay when you are visiting Birmingham, we've got just the place! Just around the corner, and with some rooms even overlooking our courtyard, we have negotiated a corporate rate for our visitors at the Ibis Styles Hotel on Lionel Street. This is £65.00 per room inclusive of VAT, breakfast and wifi on weekdays and weekends throughout the year.  This is a great offer, but if you are booking far enough in advance, you may still be able to find a cheaper rate with Ibis Styles without the link!
You need to quote offer SCP462851. Book on-line using our negotiated rate HERE! Please note; you can also call the hotel and quote the code. Tel: 0121 200 1900.
---
How to find us
With excellent transport links and a central city-centre location, we are only a short walk from bus stops, train stations and car parks. For more details about walking from the train stations or driving in from the M6 and M5, please see our Directions and Parking page.
Address: 13-15 Fleet Street, Jewellery Quarter, Birmingham, B3 1JP
More details about finding us!
Get Directions (external provider)
Please be aware that the road diversions due to the Paradise development will have an affect on Fleet Street. Information and maps are provided on birmingham.gov.uk/connected Please leave enough time to get to us if you are driving or using the buses!

 Making a day of it?
There is so much to see and do in Birmingham's historic Jewellery Quarter, so why not make a day of it!
There are museums, art galleries, Victorian cemeteries, heritage attractions, incredible architecture, plus a thriving retail area and spirited bars and restaurants. All within 1 kilometre².
We have put together some useful information to help you plan your visit, including some day itineraries. Visit HERE for details and also links to other information providers in the Jewellery Quarter.
---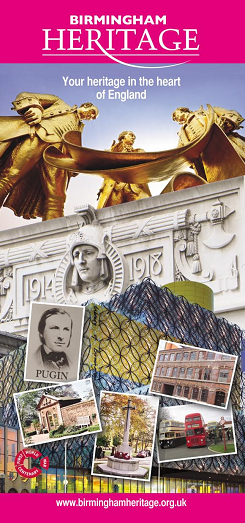 Staying a while in the city? 
Why not venture outside the Jewellery Quarter and visit some of Birmingham's incredible heritage buildings, museums and attractions full of history, not just in the centre but in other areas of our fabulous city. There are also bus tours, walking tours and other ways of sight seeing in Birmingham. The best place to start is by looking at the Birmingham Heritage Forum website.
You can download their latest leaflet HERE (p.1) and HERE (p.2).
Have fun exploring!
We also feature on Days Out With the Kids Website.