Travelling salesmen were among the most important Newman Brothers' employees, some even went on to become company directors.  The work was hard and meant being away from home for days or weeks at a time, travelling by train, motorcycle or car. Typically, a salesman would spend the nights in commercial hotels that catered for commercial travellers.  
Each travelling salesman had his own 'patch' where he would tour around the undertakers or, in rural districts the builders and carpenters that doubled up as undertakers. In the Newman Brothers' collection we have some of these salesmen's expense claims which show which man covered which area. One of 'Dai' Davies' patches was Wales and the Marches, Arthur Allen often worked in Ireland and John Kellett looked after London and the royal undertakers, J.H. Kenyon Ltd.
Finding New Business
The job of the travelling salesmen involved keeping existing customers happy and, of course, finding new business. The key tool of the trade was the travelling salesman's bag, full of catalogues and samples. We are fortunate that four of these bags were left at the factory, still with their contents inside.  The handles and other fittings are proudly mounted on presentation card, while the fabric samples of funerary gowns and coffin linings are displayed together in a similar manner to a carpet sample book. Before making a visit, cards would be posted out to prospective clients, advising that a travelling salesman would be visiting in the next few days.
Arthur Allen and Dai Davies, Travelling Salesmen
Charm and good looks were important in this role, Arthur Allen and Dai Davies had both.
Arthur Allen
Arthur Allen worked for Newman Brothers between 1903 and 1939. His son recalls, "in 1903 he set off for Newman Brothers in a frock coat, bowler hat and rolled-up umbrella. And he said "'I feel like a real commercial traveller'".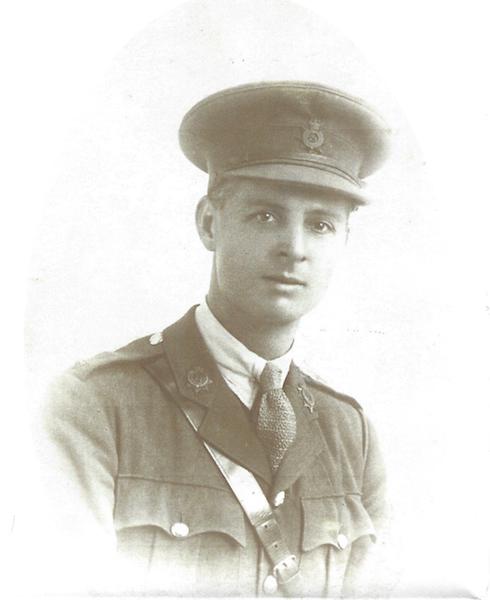 Between 1915 and 1919 he served in the Army Service Corps, as a driver, making use of the skills he had gained as a travelling salesman for Newman Brothers. When he returned to work in 1919, he spent a lot of his time in Ireland selling goods all over the country. He travelled on his Triumph motorcycle, which had a wickerwork sidecar, into which he put his sample bags. It was while he was in Ireland, around 1921 to 1922 during 'The Troubles', that he had a frightening experience with the IRA that went down in family history. His son, Anthony, recalls:
'He was in Dublin during The Troubles, staying at St Andrews Hotel, in bed, asleep, and he heard the door open and he saw somebody with a candle, and the shadow of a revolver, and they said, "Get up! You're an English spy!" He kept saying, "I am a commercial traveller…get my sample bags." They said "it's ammunition" and brought it in, but the first bag that was opened had a great crucifix on top and that did it.'
The IRA men let him go after that, and it was said in the family that the crucifix had saved his life.
In 1929 Arthur got his first car, a Morris Cowley. According to his son, this made his life as a traveller much more comfortable. Despite over 30 years' service with Newman Brothers, Arthur left to work with a competing firm Ingles, Parsons & Clive, shortly after the outbreak of the Second World War. He died in 1958.
Dai Davies
Dai Davies was born in Wales in 1916. He served in the Royal Air Force during the Second World War, before joining Newman Brothers as a 'Commercial Salesman'. His 'patch' as a travelling salesman covered much of Wales and the Marches, as well as more local areas. Eventually he became a Newman Brothers' director. He is described by Elizabeth Weaving (a Shroud Room worker) as
"very tall, and he'd got a moustache and black hair and all the ladies used to like him because he was handsome". 
He was also remembered with fondness by the funeral directors customers. Andrew Taylor (of A.B. Taylor Ltd of Birmingham) recalled that when his parents got married in 1947  Dai gave them a wedding present from Newman Brothers. At that point Dai had just started working at Newmans', he would go on selling to them until he was 80, by which time his 'patch' was a lot smaller.
"He used to come in his Peugeot and see my sister, and he always used to call her Miss Susan. Yes, he was a proper gentleman. He used to stand up when you came into the office. It was a real pleasure to see him, you know, it's not like a lot of travellers, who you don't really want to see, but he was always a pleasure to see Mr Davies."
Joyce Green the last proprietor of Newman Brothers, also had a soft spot for Mr Davies, her fellow director. When he died, in 2004, she scattered his ashes at Shipston, a special place for Dai.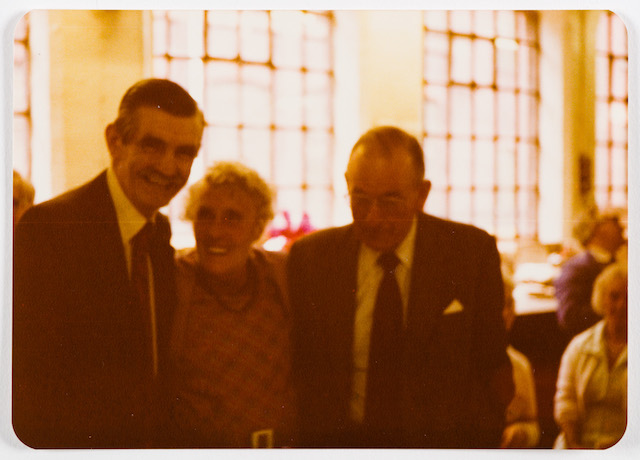 Dai Davies with Dolly Dunsby