For International Women's Day we're looking back at our most recent research on the 1921 census and our theme is Working Women. Of the 32 employees at Newman Brothers in 1921, 14 were women. Of those 14, there were 11 women listed as 'single' and just 3 married women working. Incidentally there were nine married men.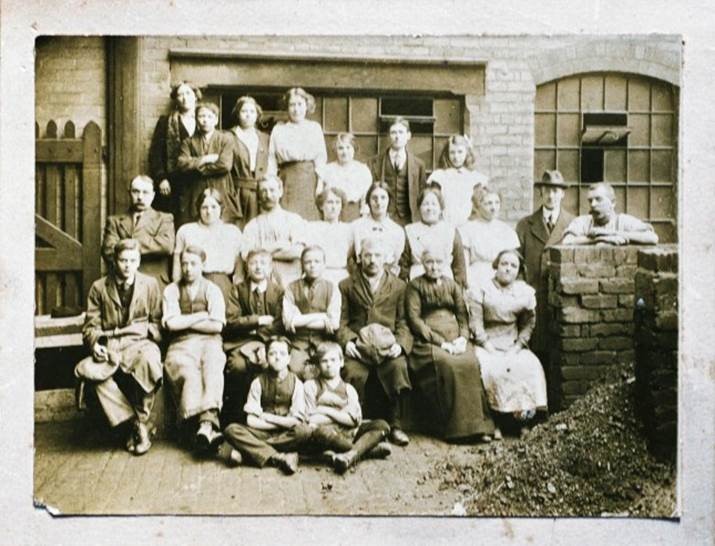 The Newman Brothers' workforce outside the Stamp Shop in circa 1912.
However, when you take a closer look, two of the married women who had listed Newman Brothers as their employer, record 'out of work' as their occupation. That's because those who were not working at the time of the census were instructed to give their last employer and add "out of work". This was to help the government track how far people travelled to work, as well as getting an idea of the total number of people in employment.
The one woman who was married and working at Newman Brothers in 1921 was Nellie Millin. She was 49 at this point and had no children. Perhaps that (and the fact that she couldn't afford not to work) was a reason she remained employed by Newman Brothers after she married.
For many women in this period, it wasn't even a choice to carry on working once they were married. It was not only an expectation for them to quit their jobs, but for some professions it was against the law to carry on working. This was known as the 'Marriage Bar', which prohibited women in certain industries from continuing to work after they got married. This legislation was finally abandoned in 1973, the same year that the Sex Discrimination Act came into force.
Even if women wanted to carry on working, the likely prospect of social stigma that came with that choice was no doubt a deciding factor in giving up a job. Those who did carry on working were often considered selfish and unreliable as they were taking time off from caring for their children. The reality of the working mother today is such that she still grapples with elements of these social stereotypes.
Stigma and legislation often resulted in married women becoming financially dependent on their husbands, and cut out generations of 'talent' from the economy.
Look out for our blog in the coming days, which explores the story of Jane Saunders, who we discovered thanks to the publication of the 1921 census.
Sarah Hayes, Museum Manager