I started volunteering at the Coffin Works in September 2016, newly graduated from studying history and full of excitement about working in heritage and museums. As someone whose family is from Birmingham (as far back as we can trace!), I was ready to get involved in rediscovering city's heritage and finding out more.
My volunteering began with getting to know how everything worked including front of house, tour guiding, documentation, and conservation. I learned from the staff, volunteers, and visitors, about the range of stories which the collections of Newman Brothers could tell. Throughout my time working on front of house, I think I met people who worked in every aspect of the funeral industry! However, I was pleasantly surprised to discover the range of people who had a great deal to gain from this collection. For those interested in social or industrial history, textiles, architecture, machinery, and many other things, the museum had plenty to offer. I particularly enjoyed hearing people's stories as I helped them to 'clock-in' for the start of their guided tour, and I was involved in decorating the museum entrance and shop for holidays such as Halloween and Christmas (evidence of which can still to be seen on the museum homepage at certain times of year!)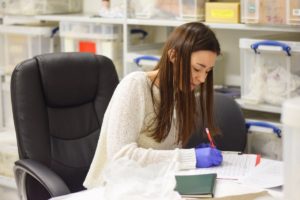 I then left the Coffin Works for a while, but I couldn't be kept away for too long. In January 2019, I re-joined the volunteering team. This time I was working on an audit of the collections to help to identify the objects, and improve the information available to increase our understanding of them. I came across many interesting objects while working in the collections store such as trade catalogues, bibles, a typewriter, and hundreds of coffin handles! It was a great privilege to be able to work so closely with these objects and learn about the people who made them.
I have thoroughly enjoyed my time spent volunteering at the Coffin Works and would recommend it to anyone who wants to volunteer or visit and see something a bit different. However, the main draw of this museum is certainly the people who work incredibly hard to make each visit special. I wish them all the best of luck and continued success!