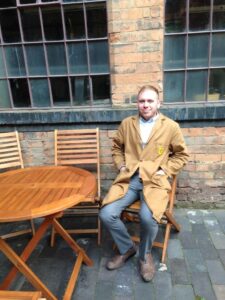 Today is Josh's last shift, working his 100th hour of his work placement. We've really enjoyed having Josh on the team, and hope to see him back in the future as a volunteer covering a weekend shift or two! As usual, we ask our work placements to share a bit about their experiences on their last 'official' day! Over to Josh…
"My time at the Coffin Works has been an absolutely fascinating experience.  To be a part of a museum that is so close to the heart of the community of Birmingham has been a privilege and an honour.   It has been very rewarding to work with so many interesting individuals and to hear their stories on the past, but also their ideas on the future of the Coffin Works.
I could not recommend volunteering and visiting the Coffin Works enough to people.  My time here has helped me with my degree and enhanced my knowledge on local history and the importance of heritage in our society.   The enthusiasm of the volunteers and the effort and hard work by the management is inspiring and I hope that the Coffin Works enjoys a long and successful future".
All the best with your studies – keep in touch!!!