by David Sugden
What can I say? When I was first offered the chance to work at the Coffin Works I didn't really know what to expect. Before starting my placement,  I had this image in my mind that this heritage museum would only be about coffins and Victorian funeral practises. However, I quickly discovered that my initial thoughts were very wrong! Whilst the Coffin Works does indeed focus on coffins, which is kind of obvious given its name, the museum provides a rare insight into Birmingham's industrial past. In today's modern climate, most of these industrial factories and structures have been gentrified or re-purposed, and so this museum is one of the most unique buildings in the city. In this regard, to work for a place that means so much to the community was both a privilege and insightful. Coming from a small town myself, Woking for those that know the South-East, we don't have the exciting history to be as involved, and so coming to Birmingham and working in a place such as this to me was eye-opening.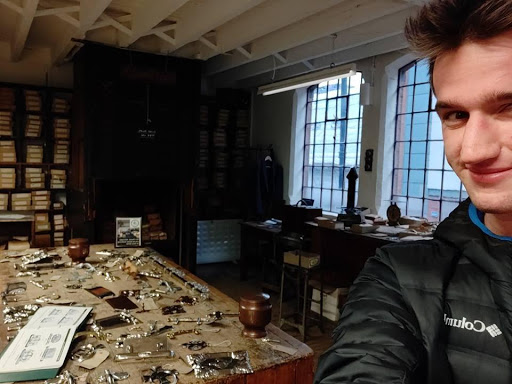 On my first day, I was put straight in the deep end. Now luckily I had swimming lessons as a kid so I was able to stay afloat, but besides this awful joke, I was tasked with helping re-brand the Birmingham Conservation Trust (the parent company of the Coffin Works) and write a report for the board meeting. So you can say no pressure there really. To begin I created posters to help with conferences as well as talks which could help raise their profile. Previous to this I had very little experience with any form of digital media development, and so when I came to producing these designs, I really struggled at first. This took around three days to develop and by the end, I can say that I was satisfied with the final designs (see images below).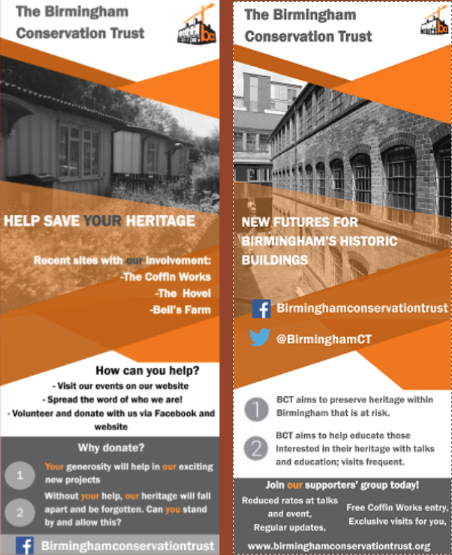 Aside from material designs, I also helped with financial and visitor record analysis, and tried to find patterns regarding the types of people that were coming to the Coffin Works. This led me to think outside the box in ways to target groups such as the scouts, families and international tourists such as creating an interactive map and drafting letters to scout groups. These projects are still ongoing and so despite my placement having ended, I want to see these ideas through.
Finally, working at the Coffin Works has been important for my own personal development, and I think that it has made me a far more rounded individual. After university I always thought that I wanted to be a lawyer, yet working within heritage has challenged this thought of mine. Every time I entered the office here, I felt a sense of joy with my fellow staff and the work I was contributing was actually of benefit to them. Because of this, I now wish to pursue a career in the marketing industry, and without a doubt this placement has helped with this.
So to finish, this placement wasn't so 'dead' after all (I was never really good at jokes after all). In fact, it was the opposite, and I wish for others to get themselves involved in heritage themselves.