Since beginning our research into the Newman Brothers' workforce over eight years ago we always knew that we hadn't got the complete story, largely because of missing ledgers and information. As we often remind people, our paper archive only stretches back to the early 1930s; everything before is shrouded in mystery and conjecture. But since 2014, that picture has become somewhat clearer because of fortuitous donations and through the work of researchers, namely my own mum, who is possibly the best researcher I know!
A few years back, we were fortunate enough to acquire three ledgers through a kind donation. The donor was the grandson of Newman Brothers' accountants and the earliest ledger that came into our possession is a profit and loss account, dating back to 1915! All of a sudden, we had names of Newman Brothers' directors that we didn't know existed. It was also from one of the ledgers that we were able to finally date the clocking-in machine to the 1940s.
But the latest stroke of luck has come via gaining access to the 1921 census! This is unlike any other census as it was the first time that people were required to list their employer. From this we have been able to build a picture of who was working at Newman Brothers. We, for instance, now have an idea of employee demographics: an indication of how many women and men worked for them, along with their ages and where they lived. From this information we can tell, for example, how far employees travelled for work and how many people were working for Newman Brothers in 1921. We can also determine who worked in which workshop across the manufactory. We could go further, and we will, as we'll be releasing a series of blogs over the coming weeks revealing some of this information and presenting a fuller picture of what has, up until now, proven to be an elusive workforce.
A balanced affair
So far, we have found 32 people who were employed by Newman Brothers in 1921. This is by no means an exhaustive search and we will likely find a few more, but we don't think we're far off. Of those 32 people, 14 of them were women and 16 were men, so it seems to have been near enough a 50/50 split between men and women at the factory. As you can see from the list below, by occupation, we can determine which workshops people were based in.
For the most part, with the higher-skilled jobs such as brass dressing, engineer, die sinking and stamping, there were fewer people occupying the positions. The most popular job in 1921 was 'polisher' with six people recorded. Again, there was an equal split between men and women.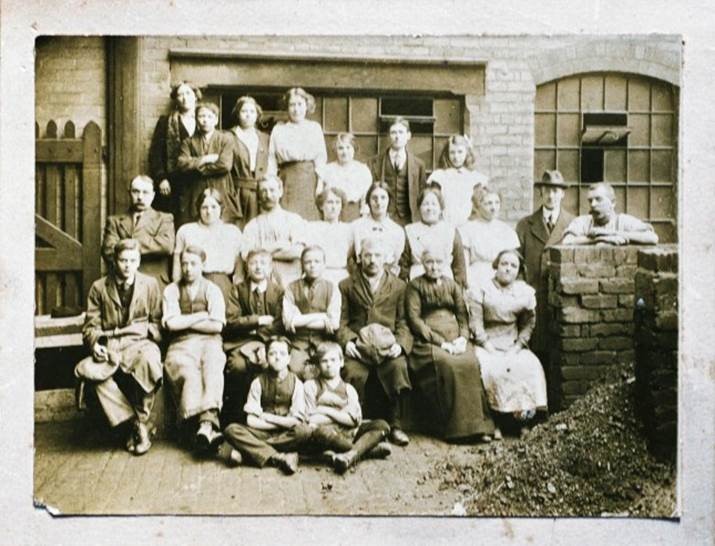 A family affair
One of the greatest snippets of information that we discovered is relating to Lewis Watkins' father and extended family. For those of you unfamiliar with the story of Lewis, we knew that he worked as a brass polisher and wheelwright at Newman Brothers between 1911 and 1915. On 20th October 1915 Lewis enlisted and joined the Royal Garrison Artillery. He died on 26th September, 1917 at the Battle of Passchendaele, aged 25.
We strongly suspected that his father, Ted, also worked at Newman Brothers. This was based on information from the 1911 census, which recorded him working as an 'Engine Driver at Coffin Furniture Works'. The 1921 census proves that Ted did work for Newman Brothers, as it lists them as his employer. So, this gave us two members of the Watkins family working in the manufactory; Lewis as a brass polisher and then a wheelwright, and his father, Ted, as an Engine Driver.
In the 1939 census, Ted is listed as a retired brass polisher and although that census doesn't record an employer, could he have worked for Newman Brothers in his later years? Newman Brothers' had started using an electric motor to power the machinery by the 1930s, so could the decommissioning of the gas engine have forced Ted into a new role? Perhaps.
But the Watkins' story doesn't end there! It turns out that there weren't just two Watkins who were employed at Newman Brothers, there were four. Ted's brother (and Lewis' uncle) Tom Watkins was employed as a brass polisher in the 1921 census working at Newman Brothers. He was also a brass polisher in 1911, so we would like to assume that he was working for Newman Brothers then too, perhaps even showing Lewis the ropes. Could he appear in the image above, circa 1912, along with his brother? We have identified Lewis in the photo (front row, extreme left).
Last but not least, enter Sydney Watkins, son of Tom, nephew to Ted and cousin to Lewis. In the 1921 census, at the age of 15, Sydney is listed as working as a brass polisher at Newman Brothers. By the 1939 census it seems he has left the manufacturing industry as he is by that point a 'debt collector'.
This exciting new information illustrates that the Newmans weren't the only brothers associated with the factory. Between 1911 and possibly 1939, the Watkins name would also have been synonymous with this family-run firm.
We've got lots more to share on the people listed below, so look out for our series of blogs (and photos!) over the coming weeks. Better still, if you find out that one of your relatives used to work for us, please do get in touch, as we'd love to hear from you.
Sarah Hayes, Museum Manager